iMda Doll
Natassa – Feisty Dreamer
2010 Limited Edition
Doll Artist Lim, Dong a' Limited Edition B.J.Doll
l  TYPE: iMda Doll(52cm)
l  Sculpted by Lim, dong a
  INCLUDING
–        Natassa (Cream White Girl Type)
–        Owner's Guide
–        Certificate of Authenticity
  OPTION
–        Eyes: 18mm Soom eyes (N04 silentnight)
–        Wig: Bronze Sheep Hair Wig
–        Clothes: OPS + Hood Muffler + Arm Warmers + Necklace
  The color in the image could look slightly different from the actual product.
  The doll pictured is a sample. Please understand the actual make up may vary the color and brush touch.
  Shipping chg is not including the total amount; it is automatically calculate with delivery zone and weight in your shopping cart when you order.
  About Lim, Dong a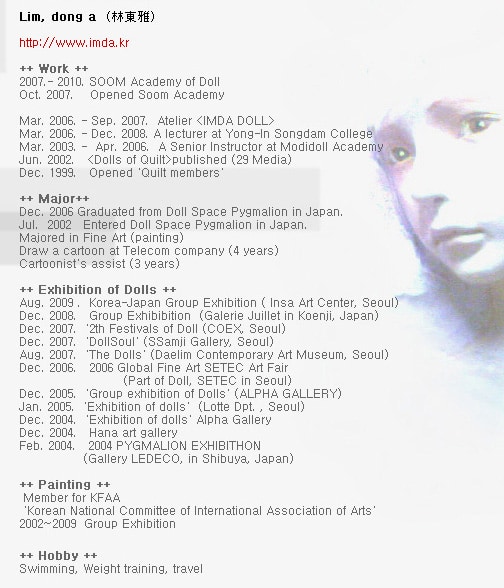 iMda Doll Measurement
      https://prev.dollsoom.com/eng/bbs/board.php?bo_table=neo_faq&wr_id=12

※ The BAG, SHOES and PINK LACE PANTY are not included in the clothes set. They are just for photograph.