Pre-order & Post-production
Our products will be made by handwork according to the selected order option. 
Production period
Normally orders will be shipped within 8-10 weeks and takes up to 14 weeks(100 days).
If you have an inquiry, please leave a message on our Q&A board. we will answer you ASAP.

iMda1.7 Lucy
Doll Artist Dong A Lim's iMda Doll
From 10 Sep (11AM) to 23 Sep (11AM) 2019 in Korean standard time

Type: iMda Doll 1.7 (17cm)
Sculpted by Dong A Lim

▶ Including ◀
– iMda 1.7 Lucy (Head + Body)
– Owner's Guide
– Certificate of Authenticity
▶ Options ◀
– Body type (Girl or Boy type)
– Skin color (Normal or Cream white or Choco)
– Face up (Designed by ComaDoll)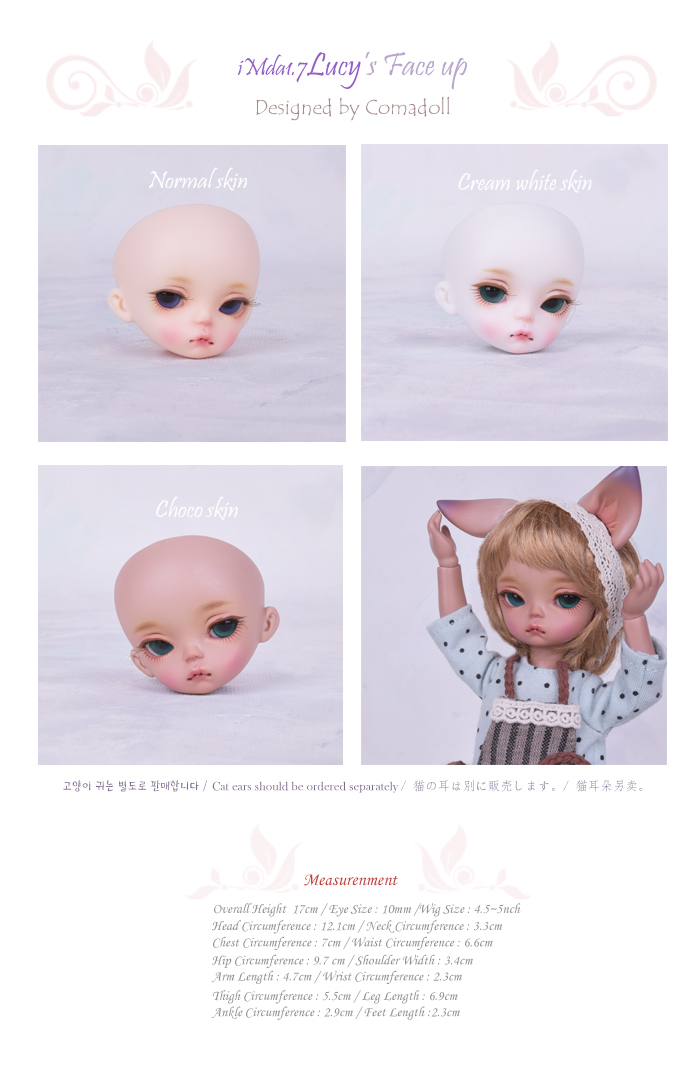 인형만 주문하는 페이지입니다. 안구/가발/의상/고양이 귀 등의 악세사리는 별도로 구입하셔야 합니다.
You can order only dolls on this page. Eyes/Wig/Outfit/Cats ears should be purchased separately. 
人形だけを注文するページです。眼球, かつら, くつ, 猫の耳 は別途に購入しなければなりません。
只订购玩偶的页面。眼球/假发/服装/猫耳 等饰品需单独购买。
* The doll pictured is a sample.
* The color in the image could look slightly different from the actual product.
* Due to its special making process Brown Tan resin color may be subject to marbling effect and speckles on the doll skin.
Please note that this is NOT considered as a defective item. 
*  画像で使用しておりますドールはサンプルになります。
*  Choco color skin (Brown Tan skin)など濃い肌色はマーブリング現象が起こる場合がございます。
これは 濃い肌色 の生産時の特徴で不良品ではみなしません。ご了承くださいませ。
* 照片上的人偶是样品。
* 特制的 Choco color skin (Brown Tan skin) 表面会感知一些异物或。
而有些大理石纹染色的效应。这也不是残品而我们不退货或交换。

* 사진에 사용된 인형은 샘플입니다.
* 실제 상품과는 메이크업이나 바디브러싱의 컬러톤이나 터치 등이 약간 차이가 날 수 있습니다.
* 수작업으로 이루어지기 때문에 개체차가 존재할 수 있으니, 이 점 양해 부탁드립니다.
* Choco(탠칼라) 칼라는 마블링 현상이 일어나는 경우가 있습니다.
컬러의 특성상 인형의 표면에 작은 이물의 부착이나 얼룩이 있는 경우가 있습니다.
이는 불량으로 보지 않으며, 교환이나 반품대상이 아닙니다.
이 점 양해 부탁드립니다.